The Study: Issue #7 - Updates from the Book World
Booker Drama, Writing Doubts, Famous in Cedarville and an Interview with the Author, and much more.
Booker Prize 2019 Winners: Margaret Atwood and Bernardine Evaristo
Alison Flood for the Guardian:
The judges of this year's Booker prize have "explicitly flouted" the rules of the august literary award to choose the first joint winners in almost 30 years: Margaret Atwood and Bernardine Evaristo.

The chair of judges, Peter Florence, emerged after more than five hours with the jury to reveal that the group of five had been unable to pick a single winner from their shortlist of six. Instead, despite being told repeatedly by the prize's literary director, Gaby Wood, that they were not allowed to split the £50,000 award, they chose two novels: Atwood's The Testaments, a follow-up to her dystopian The Handmaid's Tale, and Evaristo's Girl, Woman, Other, which is told in the voices of 12 different characters, mostly black women.
---
Mysticism and Doubt in Writing
Arielle Angel in a piece in Guernica from 2017:
"But I have doubts about my novel's solidity, the potency of its spell, taken as a whole. They are the same doubts I had when I was writing, the ones I dismissed as inevitable, as something to endure and ignore, but in the absence of validation, they are hardening into fact."
This piece just popped up on my radar last week and it hit me HARD. Self-doubt is something I've been struggling with a lot lately.
I'm not someone who writes "for the love of writing." Would you like to know a secret? Writing sucks. Like, the actual act of coming up with words is excruciating. Having written is where it's at. Being able to point to a stack of paper or an 80,000 word document and say, "I did that," kicks ass. I don't write for myself or because "I can't control the voices in my head" (gross). I write to be read. If my work is a tree falling in the woods and no one is around to hear it, then what was the point?
I've decided to do NaNoWriMo next month with a new project I have no intention of querying. It'll be something written simply for the joy of writing, something I haven't done in a long time. As some friends have recently told me, I'm especially hard on myself when it comes to my journey and I need to do something that doesn't have a specific end goal other than being completed.
No idea how it will go, but it'll be nice to have the distraction.
---
Famous in Cedarville by Erica Wright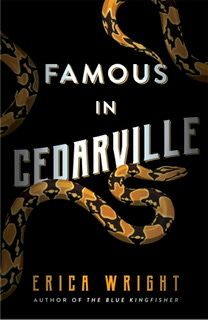 A new thriller from Erica Wright and Polis Books:
When reclusive, retired silver screen actress Barbara Lace dies in her bed, only the young widower of Cedarville suspects a crime. But Samson Delaware has always been something of an outsider, and his wife's death hasn't exactly improved his reputation. In fact, the local gossipmongers think he might be losing his mind. Their bless-your-heart manners can't disguise their distrust, which makes his amateur attempts at an investigation even more difficult.

When Lace's assistant is found decidedly murdered, the town starts to change its tune, though, and soon Samson finds himself in the thick of an improbable chase. Hollywood hotshots and small-town law enforcement make strange bedfellows―especially when secrets are getting women killed.
It's out today. Go get a copy.
---
"Lights Shining in a Puddle on a Desolate City Street" - An Interview with Famous in Cedarville Author Erica Wright
In honor of Famous in Cedarville's release, I had some questions for Erica about her new book, as well as other aspects about her work. She was kind enough to indulge me below:
1. Famous in Cedarville has to do with the death of a classic movie actress. What are three of your go-to films from Old Hollywood and why?
Let me start by saying that I was hooked on AMC as a teenager. I remember staying up until three in the morning on multiple occasions, getting sucked into Casablanca or Cleopatra. My three go-to films? Desk Set is definitely up there. I love Katharine Hepburn's confidence, in every role really, but of course she's often at her best bantering with Spencer Tracy. A lot of Desk Set's themes hold up—particularly the fear of being replaced by technology—though the room-sized computer may get a chuckle or two. To Catch a Thief is my favorite Hitchcock. It's got such a light touch for a thriller. It's also gorgeous. And My Fair Lady. When I first saw it, my high school drama teacher was helping me soften my Southern accent ("Fire is a two-syllable word, Erica!"), so I may have been biased.
2. In an interview with Mystery Tribune, you discuss your love of noir. What draws you to noir in both film and fiction?
The stakes. Crime fiction—or film—starts at a 10. The way that storytellers adjust the volume fascinates me. I also like that at the heart of most noir is this essential question: why does one human kill another? It's fundamental. We've been asking it since Cain killed Abel, and yet the answer still feels elusive. On a more gut level? I like the mood of noir. Lights shining in a puddle on a desolate city street.
3. There's a snake on the cover of the book. You're working on a book about snakes currently. In the immortal words of Indiana Jones, "Why did it have to be snakes?"
I'm scared of snakes, too, and had to turn off Raiders of the Lost Ark. I've never seen past the snake pit! But I'm fascinated by how this animal holds symbolic significance in nearly every culture. And contradictory significance at that. Snakes are symbols of both good and evil, life and death. Yesterday there was ambulance in my neighborhood, so I saw that familiar medical logo: a serpent wrapping its body around a staff. A sign of healing. But I also read an op-ed in The New York Times this week about how white teenage boys are at risk of being courted by supremacist groups, and the graphic at the top was an iPhone with snakes spilling out. Like them or not, you can't avoid them.
4. What's it like working primarily with independent publishers and small presses like Pegasus and Polis instead of a Big 5 publisher?
I feel incredibly lucky to have worked with Pegasus and to now be working with Polis. My poetry books are with a small press also, Black Lawrence. My editors feel more like friends than business partners. (My editor at Black Lawrence, Diane Goettel, sent me a sympathy card when my cat Lola died last year.) I hate bothering people, so it makes communication a lot easier for me. I'm not sure if this happens with Big 5 authors or not, but with Polis, I know many of my pressmates now. We root for each other. It feels like a team.
5. You're also a senior poetry editor at Guernica Magazine - what makes someone's submission a "Guernica" poem in your eyes?
Most of our readers are there for the nonfiction, so I'm looking for poems that might serve as gateway drugs. Poetry has brought so much joy to my life, and I want everyone to experience that. I suspect that this genre is simply taught wrong. In high school in particular, we're often asked to look for hidden meanings, as if a poem is a puzzle. I think poetry should be treated more like music. Can you analyze a song? Absolutely. People get PhDs in music theory. But most of us just turn on the radio or Spotify and listen. We don't worry that we're missing something.
6. Best ice cream flavor?
Mint chocolate chip.
Erica Wright's latest novel Famous in Cedarville received a starred review in Publishers Weekly. Her debut The Red Chameleon was one of O, The Oprah Magazine's Best Books of Summer 2014. She is also the author of the poetry collections Instructions for Killing the Jackal and All the Bayou Stories End with Drowned. She is the poetry editor at Guernica Magazine as well as a former editorial board member for Alice James Books. She grew up in Wartrace, TN and now lives in Washington, DC.
---
STET! A New Card Game from Dreyer's English Author Benjamin Dreyer
If that misplaced apostrophe flew right up your nose, this is the game for you. Based on the New York Times bestseller by Random House's copy chief Benjamin Dreyer, STET! will help you sharpen those language skills or give you a reason to show them off (you know who you are). There are 100 entertaining sentences waiting for you, the copyeditor, to correct–or, alternatively, to STET. The first person to spot the error, or else call out "STET!" (a copyeditor's term that means "let it stand") if there is no error, gets the card. There are two ways to play: compete for points in a straightforward grammar game, or play with style and syntax and whip the author's sentences into splendid shape. The person with the most cards at the end of the game wins!
---
The Strand's Last Stand
Miranda Bryant for The Guardian:
"The Landmarks Preservation Commission (LPC) announced in June that it had granted the Strand's home – an 11-storey building between Manhattan's Greenwich and East Villages – landmark status, despite vocal opposition from its owner who warned it would 'destroy' the popular store.

Now Nancy Bass Wyden, who owns both the building and the business, plans to sue the government agency, claiming the city's actions are unconstitutional."
The Strand is one of the last great bookstores in New York, as rising rents and Amazon threaten to turn the city into one big Starbucks. For the LPC to handcuff Bass Wyden with unnecessary red tape is almost a surefire way to make sure this cultural landmark is wiped off the map for good.
---
NaNoWriMo 2019
It's almost here. Are you ready? Finish out Preptober the right way and crush that 50,000 word goal with these helpful resources:
Nanowrimo.org - track your progress, connect with friends, and find a local NaNo chapter to keep you motivated.
Story Planner - an iOS app designed to help you flesh out your characters, settings, and plot before you start your book.
TomatoTimer - a free web-based Pomodoro timer designed to help you in your 25-minute writing sprints, with optional desktop alerts.
Bullet Journal - keep track of your word counts and writing goals with a simple bullet journal.
MindNode - Mind mapping software for Mac and iOS to help you outline your novel.
---
Support
If you enjoy The Study and would like to support the work I do, please consider dropping a few dollars in my guitar case over at https://ko-fi.com/hcmarks.
Or, if money's a bit tight, feel free to forward this newsletter on to a friend who might enjoy it, or tweet about it on Twitter. New readers can sign up over at thestudy.substack.com.
Thank you for your support!
---
About the Author
Harry Marks is the host of the literary podcast COVERED where he interviews authors about their books and the writing process. He is also the editor of the award-winning Plumbago Magazine and a writer for Aaron Mahnke's Cabinet of Curiosities podcast from the HowStuffWorks Network. You can read his work at The Coil, HelloHorror, and BaronFig.com.
Follow me on Twitter
Follow COVERED on Twitter
My blog
My website