The Study: Issue #8 - Updates from the Book World
Dictionary words, outgrowing YA, new fic from Jenn Lyons + an interview, anticompetitive Amazon, weird library questions
How Are Words Added to the Dictionary?
Last month, Merriam-Webster announced that 530new words have been added to the dictionary. Among them are new meanings of existing words, such as "they" as a nonbinary pronoun, "free solo" (as a climber, this is particularly exciting to me), "Bechdel Test," and "dad joke."

How, exactly, are these new words added? What criteria does a word have to meet in order to find its way into the Book of English Words?
Huh. Neat insight into the process.
---
"I've Outgrown Young Adult Fiction And I Think I'm Okay With That"
The fact that I continued to read YA well beyond being in the acceptable age category (they say 12–18-year-olds are generally the target audience) can't exactly be considered odd, since according to The Atlantic, half of YA readers are fully grown adults. While there are several schools of thought on why readers continue to enjoy fiction aimed at teenagers well into adulthood, it was a bit of a backward experience for me: I only started reading YA when I was about 17.
I don't read YA, but I never really did even when I was in the target demographic. I've always drifted toward more adult narratives with adult characters dealing with adult problems. Maybe it was my way of wanting to be taken seriously as a teen. Or maybe I just never saw myself in any of the characters. It looks like I'm not alone.
---
The Name of All Things by Jenn Lyons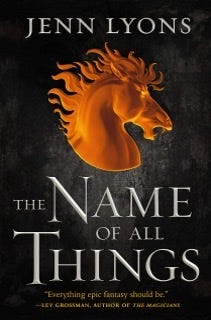 Fantasy author Jenn Lyons has a new book out today called The Name of All Things. It's the sequel to her hit novel, The Ruin of Kings.
Kihrin D'Mon is a wanted man.

Since he destroyed the Stone of Shackles and set demons free across Quur, he has been on the run from the wrath of an entire empire. His attempt to escape brings him into the path of Janel Theranon, a mysterious Joratese woman who claims to know Kihrin.

Janel's plea for help pits Kihrin against all manner of dangers: a secret rebellion, a dragon capable of destroying an entire city, and Kihrin's old enemy, the wizard Relos Var.

Janel believes that Relos Var possesses one of the most powerful artifacts in the world—the Cornerstone called the Name of All Things. And if Janel is right, then there may be nothing in the world that can stop Relos Var from getting what he wants.

And what he wants is Kihrin D'Mon.
Available today from all major retailers on Macmillan's website, but I encourage you to order it from your favorite independent bookstore if possible. Happy reading!
---
"Don't Kill Your Darlings" — A Mini-Interview with Jenn Lyons
In honor of Jenn's book birthday today, I've included a mini-interview with her about The Name of All Things and some other fun topics.
1. In a few sentences, what is The Name Of All Things about?
It's about the hero of the first book, The Ruin of Kings, traveling to Jorat to find the Black Knight, who he hopes can help him. He instead ends up trapped inside a tavern during a blizzard while a woman tries to convince him to help her slay a dragon she claims is going to wake up and ravage the countryside. Events go rapidly downhill from there.
2. What goes into creating a great fantasy character?
That's always going to be deeply subjective, I think. Personally, I tend to create a conlang (constructed language) first and use that to create names that have some secret meaning to me.
3. What's one literary accomplishment, no matter how big or small, you're still waiting to fulfill?
Honestly, being published by Tor checked off a major 'if only one day' box for me, but I'd love to be nominated for an award at some point.
4. How do you keep track of so many character arcs from book to book?
It's never been a problem for me. I grew up on comic books and Dungeons & Dragons—complicated plots which might last years. The idea of following multiple character threads comes quite naturally. I do keep notes and have a wiki for various facts and information about characters, but I rarely need it.
5. What's the worst writing advice you've ever been given?
Oh but there's so many to chose from. There's really a great deal of trash advice out there for writers, and honestly I think a huge part of the process is learning to sort good from bad. But let's go with 'Kill your darlings' — because this is a koan so vague that it leaves all the room in the world to misinterpret it. If you mean: don't let your attachment to a character, plot element, or scene prevent you from cutting it for the greater good of the story, then sure, that's great advice. But I have seen SO many people interepret this aphorism as literally 'cut out your favorite passages' and ugh. What a terrible thing to tell someone who might actually believe you.
6. Best snack food?
Hummus and pita bread. Or banana chips. Ooooh, wasabi-coated edamame…um, it's possible I don't have a single favorite.
Jenn Lyons lives in Atlanta, Georgia with her husband, three cats, and a nearly infinite number of opinions on anything from mythology to the correct way to make a martini. Her debut epic fantasy novel, The Ruin of Kings, from Tor Books, found its way into the wild on February 5, 2019. The second book, The Name of All Things, drops October 29, 2019. Visit jennlyons.com for more.
---
Shelved Under A for Anticompetitive
Andrew Albanese for Publishers Weekly:
The American Library Association (ALA) has delivered a written report to the House Judiciary Committee telling lawmakers that "unfair behavior by digital market actors," including Amazon and some major publishers, is "doing concrete harm to libraries."
and
Amazon's growing power has been a simmering cause of concern and a topic of conversation at ALA conferences for years now. But Amazon's push for exclusive digital content has been ramping up in recent years, increasing concerns, particularly in the audio market, where Amazon-owned Audible has been signing exclusive deals with bestselling authors and publishers. In addition, some in the library market are concerned that Amazon is selectively using its data to pressure publishers into further restricting library access to digital content.
It's that last part that's so scary—Amazon is quickly becoming publishing, not just a part of a very large system. Given enough time, Amazon will BE publishing, from top to tails, and it's going to shatter the industry for those at the most vulnerable levels—namely writers and libraries.
---
Ask the Librarian
The New York Public Library has gathered several bizarre questions asked by its patrons over the years over at Literary Hub:
The questions posed below are selected from a cache of those written on file cards between the 1940s and the late 1980s, as far as we can tell from the dates on each card. When the staff of the Library discovered them a few years ago in a small gray file box, they inspired awe, laughter, and, most importantly, the box provided a snapshot of the interests of people coming into the Library. Some clearly reflect the times and particular concerns of the day while others could just as well be asked of NYPL—or Google—today.
What time does a bluebird sing?
---
Support
If you enjoy The Study and would like to support the work I do, please consider dropping a few dollars in my guitar case over at https://ko-fi.com/hcmarks.
Or, if money's a bit tight, feel free to forward this newsletter on to a friend who might enjoy it, or tweet about it on Twitter. New readers can sign up over at thestudy.substack.com.
Thank you for your support!
---
About the Author
Harry Marks is the host of the literary podcast COVERED where he interviews authors about their books and the writing process. He is also the editor of the award-winning Plumbago Magazine and a writer for Aaron Mahnke's Cabinet of Curiosities
podcast from the HowStuffWorks Network. You can read his work at The Coil, HelloHorror, and BaronFig.com.
Follow me on Twitter
Follow COVERED on Twitter
My blog
My website